Tasteful Selections® began with multi-generational potato farmers who recognized an opportunity to expand the baby potato category to meet the busy consumer's preference for simpler, convenient meals.
Today, the Tasteful Selections® brand is the leader of this unique potato category. We pioneered bite-size potatoes as a convenient source of nutrition, flavor versatility and variety for everyday meals.
Before Tasteful Selections® became a leader and pioneer in the category, bite-size potatoes played a special role in our family meals. As potato farmers from Nebraska, my father and I would pick out the small potatoes after each harvest and take them home by the bucket full. With great flavor and quick cook times, our family looked forward to having these flavorful bites to pair with our meals.
My father knew that these bite-size potatoes could inspire meals for more than just our own, so he started his venture of expanding the potato category.
Pairing with growers across the country and the world, he expanded his knowledge of planting, growing and harvesting. Through this, he discovered our bite-size potatoes thrived in fields throughout the Southwest and thus we moved to California to make our bite-size dreams, a big-time reality.
Our state-of-the-art growing, production, and storage facilities are located in Arvin, CA (south of Bakersfield) in an area known for its rich farmland and year-round growing seasons.
Owning the entire planting, growing, harvesting and packaging process ensures our high standards of quality, flavor, freshness, size uniformity and best practices for sustainability are maintained.
Planting and harvesting more than 300 days a year, we truly are…
FIELD TO FORK FRESH

We hope that our Tasteful Selections
®
bite-size potatoes will inspire you and your family for many meals to come.
From my family to yours, Nathan Bender
Grower and Chief Operating Officer of Tasteful Selections
In the field or in our community
Our mission is to serve our customers, support our people and care for our community.
We believe in sharing our success, time and talents.
"We are doing our part to help the environment by reducing waste and consuming less. As a company, we believe in sustainability and being leaders in the community. We want to set a good example of how a plant should operate as a green leader."
—Nathan Bender, COO of Tasteful Selections®
In addition to our sustainable practices, we want to make recycling easier for you. We are eager to announce our partnership with How2Recycle®.
How2Recycle is a standardized labeling system that clearly communicates recycling instructions to consumers. It involves a coalition of forward thinking brands who want their packaging to be recycled and are empowering consumers through concise packaging labels.
With the knowledge and well-depicted recycling information from How2Recycle, our packaging will now provide our consumers the best information to assist them in making informed choices regarding their bite-size potato packaging recyclability.
Learn more about How2Recycle
Find your store drop off location
Tractors pulling harvesters have been eliminated in the field as we transition to a self-propelled harvester that doubles the amount of input and saves on fuel. We are able to eliminate up to eight tractors a day!
We've designed our wash lines so nearly all the water used to wash our bite-size potatoes is reused. Water that cannot be redistributed to the wash line, is then applied to our crops in the field.
As a company, we have cut down water waste by transitioning 2,000 acres from a flood irrigation system to linear irrigation. Linear irrigation is more efficient by irrigating up to 98 percent of the in a more efficient and equally distributed manner. On top of efficiency, linear irrigation uses 60 percent less water.
These are just a few of the ways Tasteful Selections is working towards being sustainable stewards of the land.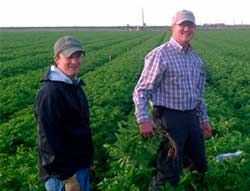 New job opportunities are available!
At Tasteful Selections® we value those with world-class integrity, accountability, community, innovation and the drive to keep improving. Does this sound like an organization you'd like to be a part of? We are always seeking qualified individuals to join our growing team.