WHAT ARE bite-size POTATOES?
Our baby potatoes are hand selected, small variety known for their flavoring, creamy textures and thin skins. We call them bite-size because they are best scaled to what the average person can bite when eating these delights.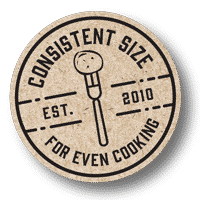 Each bite-size potato is sized within five-millimeter increments of each other, making our baby potatoes among the most uniformed sized potatoes in the country, which means…
Faster, more consistent cook times for you!
View our latest promotions & dont forget to #MyTastefulSelections